Clean my computer
If your PC or MAC has become slow, you can get up to 40-60% of the lost speed back using the fast, free and easy Ccleaner (downloaded more than 900 million times worldwide).
Be mindful however that a heavy anti-virus program like Norton, McAfee, Kaspersky and ESET can make your computer slow – try the light and efficient Webroot SecureAnywhere for PC or Mac free for 30 days, so you can see the difference for yourself.
Press the image that corresponds to your computer, PC or Mac – Install and then select "Run Cleaner" or "clean" and the program does the rest itself – it's that simple!
While the Online scanner can tell you whether your computer has virus, our award-winning software can protect your computer from getting infected to begin with. Try 30 days free Antivirus :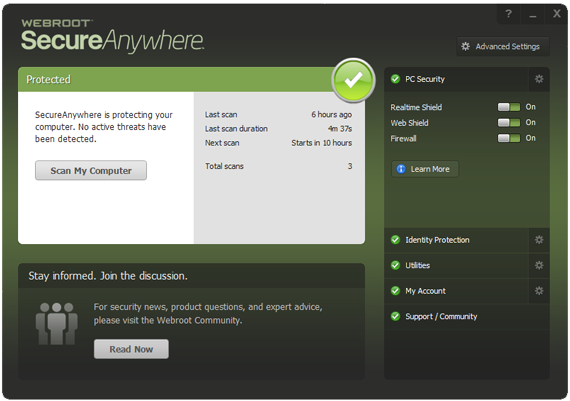 [checklist]
Antivirus
Antispyware
Anti-Phishing
Anti-Rootkit
Web-filter
Cloud-based (Real-time database)
System Optimization
Extremely high perfomance
Installed in under 10 seconds
Works both on PC and Mac
[/checklist]