A Real-time Cloudbased solution
With WEBROOT SecureAnywhere installed, we keep an eye on the security within your business 24/7 and ensure that your antivirus is always updated, is active and running as it should. Our team of technicians are ready to solve any problems and through our Technical Remote Monitoring solution we often catch problems before it becomes a real problem. You can read more about our overall monitoring package by clicking link below: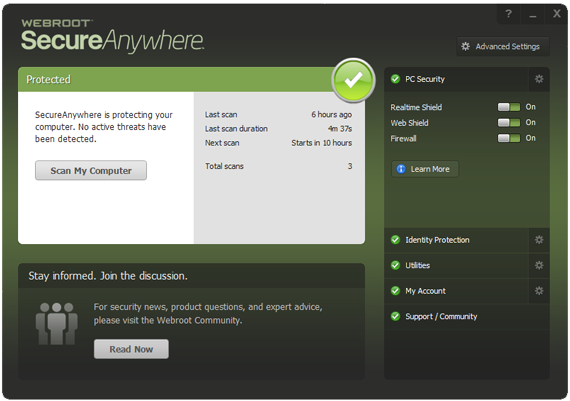 Proven Technology
WEBROOT SecureAnywhere is proven in the world of professional security solutions for businesses. We are confident to bring this solution to our consumers as well. Webroot's Antivirus engine is tested and approved by independent laboratories.
Always up to date, because the protection is Real-time by Webroot's Intelligent Cloud
Webroot is easy for the computer to run (only 5 Mb RAM idle) and does not disturb the user unnecessarily. It is also secured so that only administrators with us and your company can remove it from your workstation. This ensures that an employee or family member does not accidentally remove Webroot or turn it off so that the data security is compromised.
We also offer monthly report with statistics on the virus that has been removed from the computer and where they were found. This is especially popular among small businesses and companies with temporary employees.
Fastest Scan time
Webroot SecureAnywhere Business
23Seconds
McAfee Enterprise
144Seconds
ESET Endpoint Security
238Seconds
Symantec Endpoint Protection
258Seconds
Kaspersky Endpoint Security
420Seconds
Sophos Endpoint Security
558Seconds
Microsoft Endpoint protection
2116Seconds
Webroot SecureAnywhere can be subscribed to on a monthly basis or a yearly basis and your license can be upgraded or downgraded from month to month based on how many computers you need protected. This ensures the right amount of flexibility you need along with full control of planning and resource management.
We also make sure to remove any existing antivirus solution free of charge before Webroot SecureAnywhere is installed.
Prices are pr. computer and tax is included. Patching of 3rd party apps includes: Adobe, Java, Firefox, Chrome, Skype, VLC, Winzip, Ccleaner and many more.
Supported operative systems:
Windows Server 2012 R2 Standard, R2 Essentials
Windows Server 2008 R2 Foundation, Standard, Enterprise
Windows Server 2003 Standard, Enterprise, 32 and 64-bit
Windows Small Business Server 2008, 2011, 2012
Windows Server Core 2003, 2008, 2012
Windows Server 2003 R2 for Embedded Systems
Windows Embedded Standard 2009 SP2
Windows XP Embedded SP1, Embedded Standard 2009 SP3
Windows Embedded for POS Version 1.0
FAQ
Q: What happens if one of our computers gets infected, despite using Webroot?
A: Then we will make sure to remove the virus on the subscribed endpoints, free of charge. If Windows or OsX is too damaged, we provide a 20% rebate on our virus removal On-Site service.
Q: Can my business still get Webroot Antivirus, if we still have time left on our old license?
A: If you still have time left with your old provider, we will compensate by converting it to your new subscription, so you get that time for free .